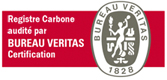 Certificate's date 03/10/2011

Offsetting registry audited by Bureau Veritas Certification
Climat Mundi operates a carbon registry, which records :
the carbon credits bought by Climat Mundi, sorted by project
the CO2 quantities offset by our clients
the cancellation of the corresponding carbon credits
With Bureau Veritas Certification, we have implemented an external audit protocol. The first audit was done by Bureau Veritas Certification on november 26th 2007 and will be repeated every year.
The goal is that Bureau Veritas Certification checks our registry and can therefore attest that :
cancelled carbon credits correspond to previously offset CO2 quantities
purchased carbon credits are only used once (no double counting)
For this audit, Climat Mundi makes available to Bureau Veritas Certification any necessary document, particularly : sales journal, offsetting selling contracts, carbon credits purchasing contracts, payment proofs of carbon credits...
See Bureau Veritas Certification certificate Top of page
Climat Mundi follows the ADEME's Best Practice Code for carbon offsetting
In order to guarantee the reliability and the quality of the offsetting approach, the Ademe has developped a Best Practice Code. Climat Mundi fully adheres to all the principles of this Code * :
100 % of Climat Mundi's projects respect the requirements of theCode
100% of Climat Mundi's projects are documented and all the documents can be downloaded (project description and emissions reduction verification report)
The Ademe's website dedicated to the Code : www.compensationCO2.fr
* The Best Practice Code refers exclusively to the greenhouse-gas emissions offsetting.